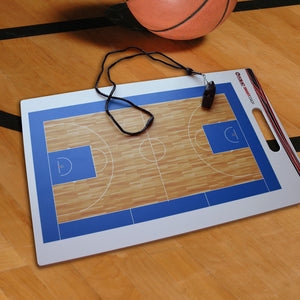 FOX 40 SMARTCOACH COACHING BOARDS
Pro Sideline Carry Board
The Fox 40® SmartCoach® Pro Sideline Carry Board features a handle for holding and carrying. This optimal sized coaching board has double-sided playing surfaces - a 2D full field/court on one side, and a close-up of a 3D half field/court on the other side. Full-color write-on/wipe-off dry erase surfaces make it easy for quick sideline strategy sessions. 
Board Dimensions: 12" x 19" (30.5 cm x 48.25 cm)


Fox 40 SmartCoach® Boards are designed to display a playing surface that is lifelike and representative of the user's real-world experience. offering Coaches, Instructors & Athletic Directors the ability to provide a
more genuine demonstration consistent in both teaching and practice.
Ask us about stock imprinted or full surface custom coaching boards!


OTHER MODELS, SPORTS AND SIZES ARE AVAILABLE!
CLICK HERE TO CHOOSE YOUR IDEAL GAME STRATEGY BOARD.
ABOUT FOX 40
Fox 40 has become synonymous with innovating and producing the best quality, most trusted whistles in the world. After the invention of the original Classic for referees, Fox 40 soon discovered that their whistles were being used by police, fire and rescue professionals around the world. We now have a wide range of Fox 40 whistles, the preferred choice for rescue workers, lifeguards, school crossing guards, boaters and for individual safety use.
The complete line of Fox 40 products has since grown substantially across all sport and safety markets. Fox 40 has continued to innovate and revolutionize the industry with their product offerings, which now include Whistles, Whistle Attachments, Fox 40 Gear, SmartCoach Pro Coaching Boards, Mouthguards and Outdoor+Marine products.   Read More...